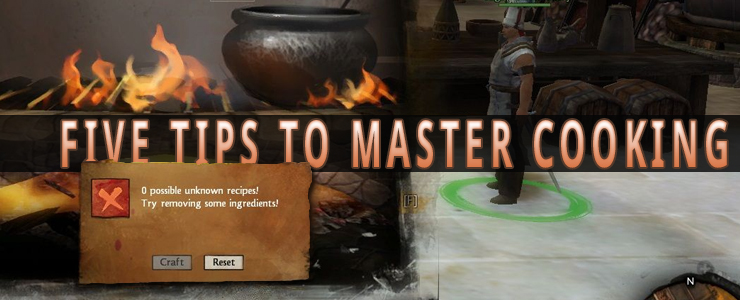 Personally, I'm a big fan of cooking in most games as it's a nice way of giving yourself and your group that little extra boost. ArenaNet has stated that in Guild Wars 2 the cooking discipline is going to be more time consuming and more costly than the other crafting disciplines. The fine folks at Guild Wars 2 Junkies have written up a list of tips that will help the would-be chef on their leveling journey.
1. A great place to start if you're trying to get some recipes discovered is to think about realistic recipes, as was suggested in my previous article. Taking it a step further, remember that discovered recipes have a maximum of 4 ingredients, so breaking real recipes into 4 basic ingredients is important. We can assume that most real life recipes start with a base such as a meat or a starch, they then have some sort of sauce or water added, and then have a vegetable, and either seasonings or another vegetable added.
Hit up the article for the rest of the tips, and start brainstorming how to make that Skritt souffle or Skale tar-tar!